HOLBEIN PIGMENT PASTE

TOSAI PIGMENT PASTE
Pigment is a fine powder used to make paint. Pigment tends to stick together and usually comes in lumps. If these lumps are mixed with an adhesive agent, it will result in grainy paint. Holbein Pigment Paste, available in 20 colors in 35ml squeeze bottles, has been ground to achieve superior results when used as a base colorant to produce your own paint. Pigment Paste may initially pour out in small lumps but will return to perfect mixing consistency by just adding a little water. Artists can then make various forms of paint by adding an adhesive agent like gum arabic, acrylic emulsion or glue among others. Holbein Pigment Paste can also be used to customize the concentration of paint by adding it to commercially available water soluble artist color and mediums.
Holbein Pigment Paste does not contain any adhesive agents on its own and is not suitable as an actual paint unless adhesive agents are added.
Holbein Pigment Paste cannot be used to produce oil based color.
Some adhesive agents may not work well with Holbein Pigment Paste. It is recommended to test a small amount first to ensure proper compatibility.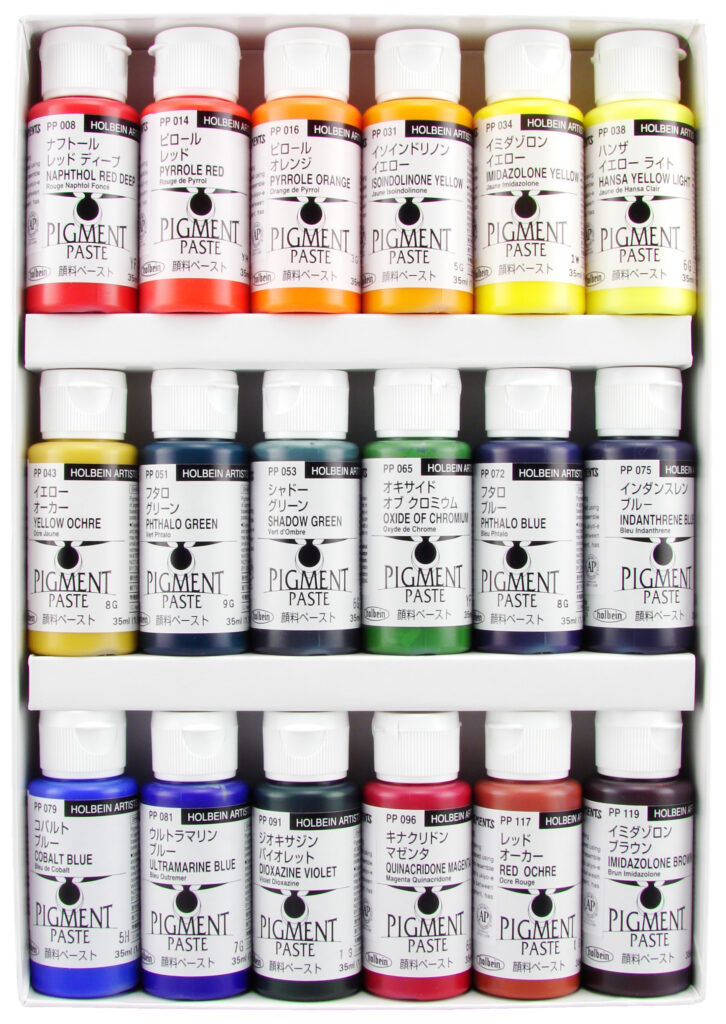 TOSAI Set of 18 in 35ml squeeze bottles
Set Contents
Naphthol Red Deep, Pyrrole Red, Pyrrole Orange, Isoindolonone Yellow, Imidazolone Yellow, Hansa Yellow Light, Yellow Ochre, Phthalo Green, Shadow Green, Oxide of Chromium, Phthalo Blue, Indantherine Blue, Cobalt Blue, Ultramarine Blue, Dioxazine Violet, Quinacridone Magenta, Red Ochre, Imidazolone Yellow