ARTIST OIL MEDIUMS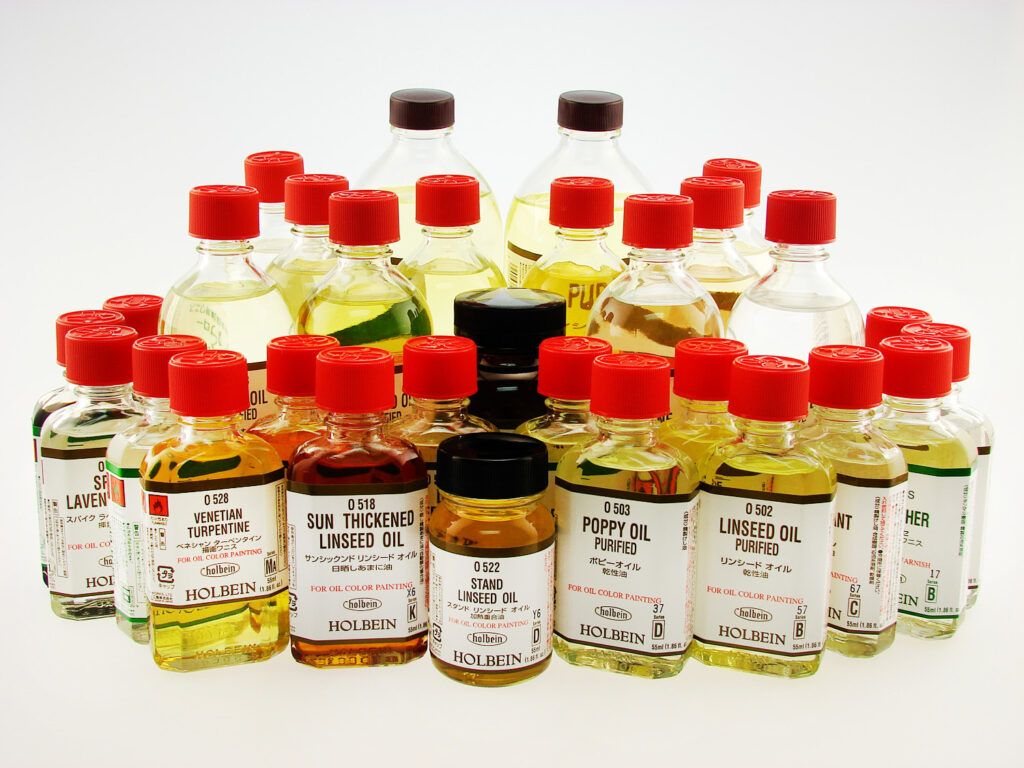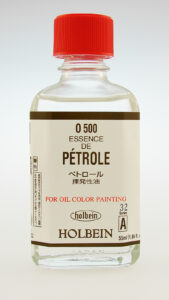 Spirit of Petroleum
O500 – 55ml
O400 – 200ml
O700 – 500ml
A petroleum-derived distillate used as a commonly used in thinning or mixing of paints and varnishes.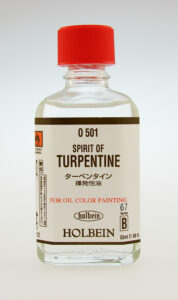 Spirit of Turpentine
O501 – 55ml
O401 – 200ml
O301 – 500ml
An oil distilled from gum turpentine or pine wood, used in thinning or mixing of paints and varnishes.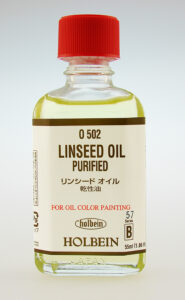 Linseed Oil
O502 – 55ml
O401 – 200ml
O701 – 500ml
Extracted from the flax plant, used for thinning oil color and provides a natural luster to the artwork. As a vegetable based oil, it leaves a slight film when dry, which sometimes causes a yellowing problem over time.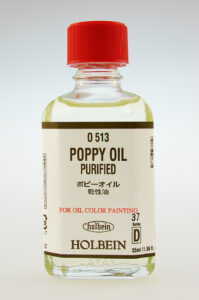 Poppy Oil
O513 – 55ml
O413 – 200ml
O313 – 500ml
Extracted from poppy seeds, used for thinning oil color, and provides a natural luster to the artwork. Poppy Oil leaves no residue behind and will not cause yellowing.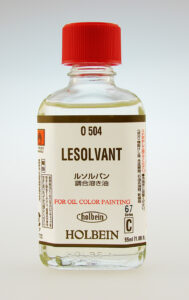 LESOLVENT
O504 – 55ml
O404 – 200ml
O304 – 500ml
Lesolvent is an ideal mixture of Spirit of Turpentine, Poppy Oil, Siccatif and resin. Properly mixed for read-to-use purposes, thus saving time and labor necessary for mixing various oils. The use of this medium will speed the drying time, and add vivid luster and smoothness to your painting application.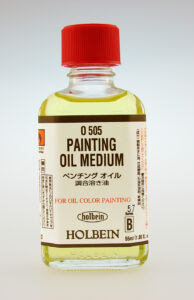 Painting Oil
O505 – 55ml
O405 – 200ml
O305 – 500ml
The ingredients in Painting Oil are the same as Lesolvent except Linseed Oil is substituted for Poppy Oil.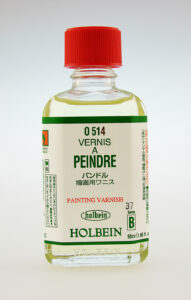 Painting Varnish
O514
O414 – 200ml
O314 – 500ml
A type of luster oil. When applied with Poppy or Linseed Oil, this varnish gives extreme brilliance to the picture. This varnish yields faster drying time and higher gloss. An ideal varnish for the painter.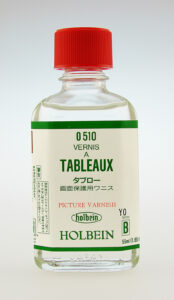 Picture Varnish
O510 – 55ml
O410 – 200ml
O310 – 500ml
For application to the painting about six months after completion. Brush this oil very thinly and lightly on the work after it has completely dried and you can reproduce a natural luster on the picture. This oil serves to protect the surface.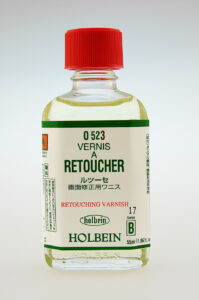 Retouch Varnish
O523 – 55ml
O423 – 200ml
O323 – 500ml
A type of glossing oil. Used to retouch the picture after completion and to produce the same gloss as in the original. It's not as thick as Picture Varnish but produces an excellent gloss.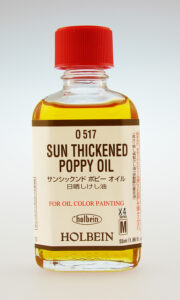 Sun Thickened Poppy Oil
A glossing oil made from condensed poppy oil. Try to mix oil colors with this oil alone, without the use of other mediums, the result will be a painting of such high gloss as to appear similar to enamels. The use of this oil is an individual choice and many artist enjoy its features in application.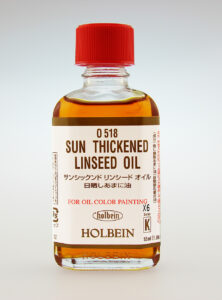 Sun Thickened Linseed Oil
Still made by the orthodox method of exposure to the sun for prolonged periods. Its increased viscosity improves drying, leveling, and protective characteristics. Used for oil mediums, varnishes, and glazes, it may be diluted with turpentine or spirits of petroleum.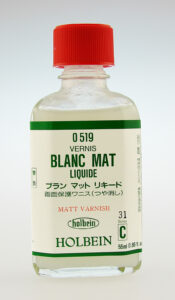 White Mat Varnish
Used for matting a picture already painted. This allows you to view the painting from many different angles much like a watercolor painting since they don't reflect light. Many paintings can be enhanced by matting back to a dull service.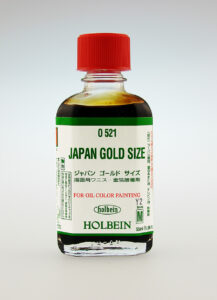 Japan Gold Size
Made from copal resin dissolved in turpentine and vegetable processed oils. Japan Gold Size may be used for tempera painting or as an oil painting medium, but is primarily used for gilding (gold leafing). Dilute with turpentine and apply it to a non-absorptive surface, the medium must dry to an almost dry stage of tackiness before applying the leaf which should be pressed on with a clean piece of cotton. Do not rub. Drying may be retarded by mixing with oil color.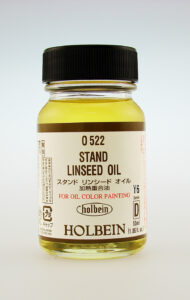 Stand Linseed Oil
A heavy, viscous oil for blending with oil color to produce surface transparency and brightness and a smoothness which enhances the leveling of the brush stroke. With a greatly reduced tendency to yellow with age, its mixed viscosity may be softened with turpentine or spirits of petroleum.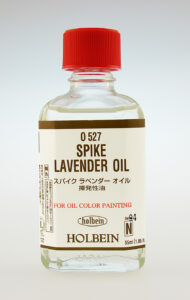 Spike Lavender Oil
Distilled from a variety of the lavender plant family, this fragrant oil has properties similar to turpentine but has greater tendency to oxidize or gum and does not evaporate as readily.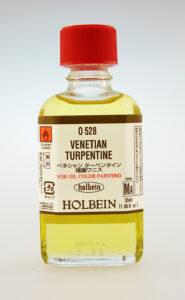 Venetian Turpentine
A heavy, thick liquid made from European Pine Trees used in oil mediums. It offers transparency and glossy surface. Due to yellowing with time, it should be used or thinned with dry oils (stand oil) or volatile oils (turpentine).