HOLBEIN ACRYLIC INK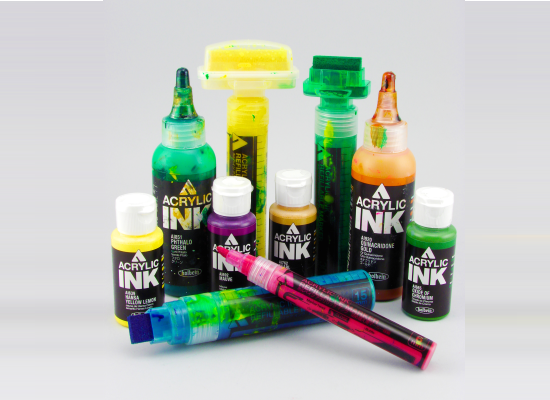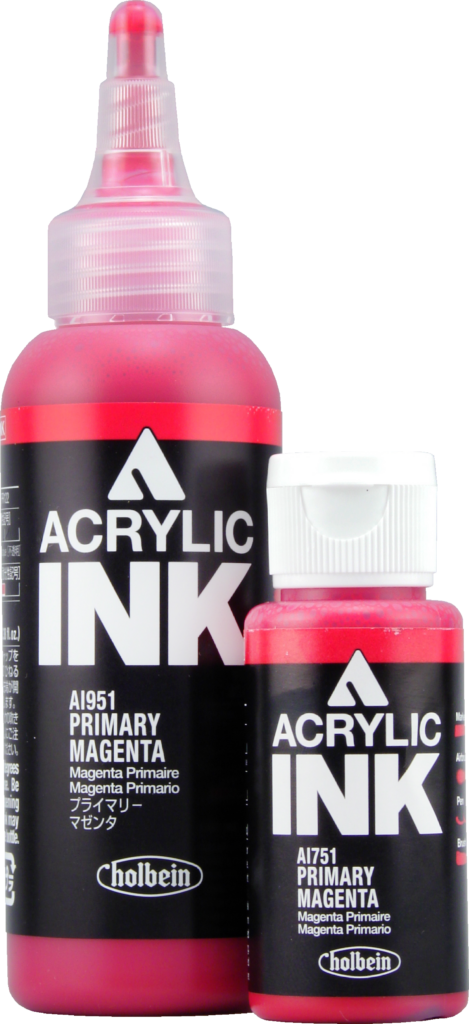 In 2018 Holbein introduced their NEW 50 color, Holbein Acrylic Ink (HAI) line in 30ml and 100ml squeeze bottle formats. This new version replaces the very popular Holbein "Aeroflash" liquid acrylic ink line which was first introduced 40 years ago.
Holbein Acrylic Ink (HAI) maintains the same pigment strength and intensity as found in Holbein Heavy Body Acrylic and Holbein Fluid Acrylic, but with much lower viscosity.
HAI does not shift in color tone from wet to dried color and will not clog a .01mm
aperture. HAI will therefore flow seamlessly through any airbrush, technical pen or
refillable marker.
HAI can be used directly for bold, brilliant color with a brush, airbrush, dip pen, technical pen or refillable marker. HAI can also be used to achieve the subtle characteristics, washes and tones of watercolor painting.
HAI is compatible with all Holbein water soluble media, and conforms to ASTM D-4236.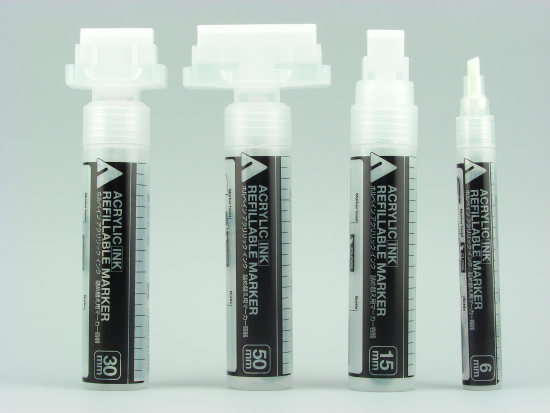 Refillable Markers & Replacement Tips
Available in .7mm Bullet tip, 6mm chisel tip and 15mm, 30mm and 50mm broad tips, the Holbein Refillable Markers all feature volume markings, internal glass beads for pigment mixing and replacement tips.
Holbein developed 5 refillable markers for use with Holbein Acrylic Ink (HAI). Easy to use, fill and refill, Holbein refillable markers allow for fine line detail to wide applications. Components are clearly marked on the marker barrel and each tip offers exceptional durability and strength. Please note that Pearl White, Pearl Gold and Pearl Silver HAI will not flow properly through empty refillable markers, technical pen or airbrush because of the high mica content. Keep cap on tightly when not in use.